What Custom Means
By William Stewart
When you think of custom furniture, you usually think of some one of a kind pieces of furniture, like the images below.
Most of the custom furniture we make and design here at Stewart Furniture Design is by customizing our standard line of furniture. Now what exactly does that mean? Well to start it means we can make all our pieces any size. Meaning you can change overall depth, overall width, overall height, arm height, back frame height, seat depth, and seat height. In addition, you can choose to use different legs from any of the pieces in our standard line of furniture. Want to a unique metal leg from another source, no problem we can do that. Want to add a maple base to something we make that doesn't have one, we can do that. Want to change one of our tight back sofas into a loose back sofa, that's easy. You can really make the piece the way you and your client wants it. The best thing is that it doesn't come with an outrageous price. How is this possible, I will explain?
We are a made to order furniture manufacturer, meaning we don't stock any made goods. When an order is placed with us, it goes into production. We make all our frames at our facility, using our renewable hardwoods. Each of our pieces in our line has a standard frame pattern already made
The picture below shows our patterns hanging on the walls. Each pattern has a number that coordinates with each piece in our standard line of furniture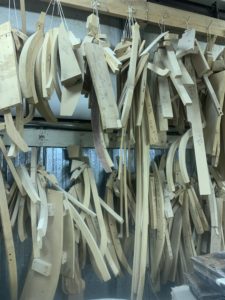 We then take the pattern down and can adjust it according to the sizes your ordered. The wood is then processed in the mill and built by hand on a bench. We do this multiple times a day, which makes us proficient and accurate in the process. We don't have to add any extra fees or wait on frames to be made by another company.
So, the next time you think of a custom sofa, don't think about how much of an extra cost this would make, instead think about what is possible to help solve your design needs. Be sure to check back for the next process in the custom furniture process, the seating foundation.