Seat Foundations
Just like when building a home, a strong foundation for your furniture is key to its longevity. Our hardwood frames are made to last for generations. Along with strong frame, most of our seats have a hand tied spring for the cushions to set on. These our heavy gage springs that set on jute webbing. The jute webbing is weaved into place and pulled tight using a special tool. Another thing we do that most don't is use a bigger staple when putting our jute webbing in place. This allows for a stronger hold on the jute webbing and less occurrence of the jute ripping. Most companies do not want to use a bigger staple because it costs more and harder to take out if a mistake is made. The pictures below are examples of our frames and hand tied springs.
For a custom sofa, the springs are laid out and spaced equally. This is then approved by me, (William Stewart) to make sure that is to our standard. Once the springs are put into the frame, they are clinched onto the jute webbing. The springer then hand ties each spring into place using Teflon string. Each row of springs is then tied to a corresponding nail, which is then hammered into place. That nail is then covered with a piece of milled wood to cover the nails, insuring that is stays in place.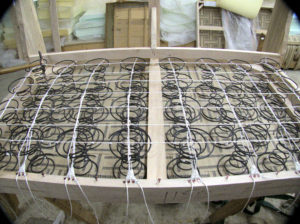 Now your custom sofa has its foundation. The springs allow for the cushions to retain its shape and increase the longevity of the cushions. It also adds to the comfort of the seating of the sofa, giving you the feeling of being wrapped up by the sofa. Next in the process is the cutting of foam for the padding in the upholstery process. Stay tuned for the next post.